Mountain Bluet
Celandine Poppy
Hyacinth Bean Sprouts
This is the close-up of one seedling of the Hyacinth Bean. I am growing them in the flower box on the deck and have had Dave attach a nice big trellis. I intend to follow the progress as these five sprouts reach for the skies. The seeds are from last year's vines, which I saved effortlessly. I have lots of them, still, and am looking for more spots to grow these vines. They need a good deal of sun, and will be getting it where I planted them. So I look forward to tons of leaves and wonderful purple flowers.
I am growing bunches of white and pink bleeding hearts, and allowing seedlings to take root whereever they show up. I will transplant them to the back of the garden, against the house since they seem to grow HUGE there. The plants stay nice well into the summer, and when the flowers go, the leaves are lovely.
Can you see the black bumblebee on the end of the flower stalk? Chester has seen him and wants to know more.
No wonder that pink is my new favorite color. These Dogwood blossoms are making me crave more of these Springtime beauties. I have white ones too, about five, but the pink are so fancy, and girly.
The white Azaleas make a big show and they are only two years old in the garden. There are two small bushes down by the mailbox too, and this year they are showing off blossoms better than ever. I have lots of white flowers ala Vita Sackville-West
of
Sissinghurst Castle
garden fame. It's all in my head however. Here's a shot of Sissinghurst's white garden.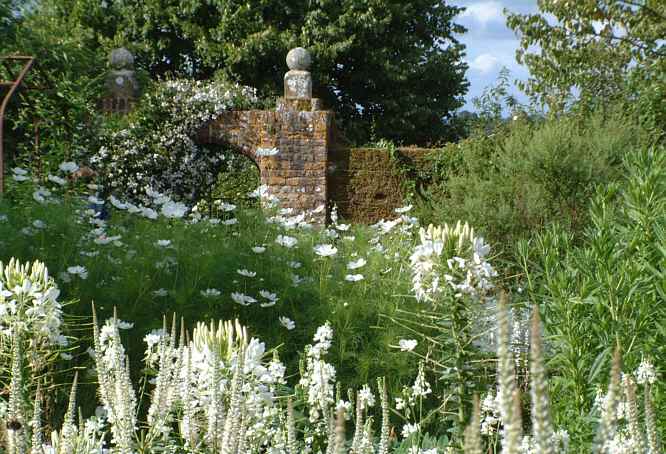 Back to reality...The snowball bush is slightly green, but give it a couple of days and it will whiten up.
In the pond garden, the Iris Cristata multiplies year after year. A wild flower, I hesitate to divide it and find other homes for some of it. Add to that, spreading the poison ivy within its boundaries...
Candy Tuft, next to the iris has a good crop of poisin ivy too. I am ignoring it all.
Columbine buds
Basil Seedlings

The End...