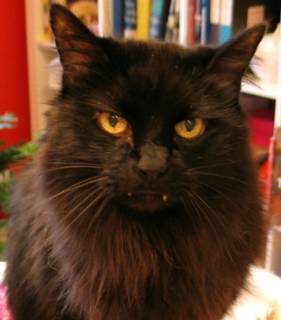 Mr. Annoying between outbursts
I have been a cat lover for my entire life and have had up to five cats at one time, counting a neighborhood stray who we introduced to our one female in hopes of mating her. As if he needed an invitation. She was a teenage mother and in a short time she had one kitten, Popeye, who was born under a hosta leaf and abandoned. I found him the next morning and personally licked his little face to arouse him and make him feel loved. Yuck. He was the size of a teeny little mouse and now weighs so much that he considers jumping onto the couch for several minutes before realizing that gravity is against him. But this blog isn't about the quiet acquiescent Popster. No. It is about the other monster in our midst, Jet the Pet.
I have blogged before (12/01/04, The Meow Solution) about his bad habit of mega-decibel yowling at the wee hours and thought I had found the cure, canned cat food, but that's not working anymore.
I am seriously contemplating catricide. And he's not that happy with me either. You can tell by the pissed off look on his face.
He's 17 years old and now deaf as a stone and we also think he has Kitty Alzheimers. He keeps repeating the same meow, even though he just said it minutes ago.
There must be something we can do to end his midnight ravings, but we are at our wits ends. Someone please help us, we need our sleep.