Most of the time Dave and I get along just fine in our retirement. He is busy outdoors and I am happy in my studio. We meet for lunch and later for cocktails and discuss projects, people and plans. Everything is copacetic.And then one day the great tectonic plates of our marriage begin to shift creating rifts that mirror Krakatoa.
We yell, we stomp, we grind our teeth and then retreat to separate corners, fuming and planning our next verbal assault.
It is difficult to be creative in such an environment. So I do strange things, like laundry, washing dishes, emptying the refrigerator, rearranging furniture, washing floors and taking out the garbage. All without joy. Luckily for my sanity I have knitting, a reason to leave the scene, and lunch with my friend Mary, and I return home all unclenched and unkinked and full of peace.
And then another crazy thing happens and we are right back at it.
Finally, and I do think it is finally for this round, the dust has settled and though I don't like it, it is back to normal again. Dave 1, Mel 0.
I was told it was the buy of the century. O yeah. Sure. I was so happy not to have a clunker in the drive anymore. This is the third truck Dave has purchased since we lived here. Four years, three trucks. Four wheel drive, towing package, 1988, for heaven's sake. AC and bucket seats. This will save my mulch collecting van from transmission failure (ha!) and we NEEEEEEEED it, he says. I gave in and gave up, and said OK, like it mattered what I said.
This Coon Hunter decal is being scraped off as we speak. The dawgs are already trying to jump up to inspect the cab. Boys. Gotta love 'em.
I am not a revengefull person. I can lay down my weapons and walk away. I don't need to buy anything to equalize this dent in my checkbook. I don't need to.
BUT.
Last week when I was fooling around bidding on shoes on Ebay, I came across this perfect for me sewing table, made to fit my machine. I did the Buy It Now thing and it will be mine in a week or two. Yay!!!!
Get this: ASSEMBLY REQUIRED. Mwahahaha! I know just the guy to do this.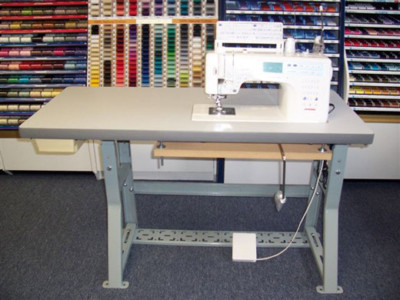 ++++++
Because its just not hot enough, the Dawgs and their hot little bodies have to squeeze up next to me while I blog.