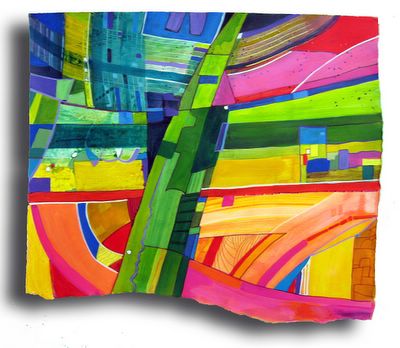 Overpass
Acrylics, Prismacolors, inks and graphite
Feeling like there was no time to paint today made me get up early (5am) and tiptoe down to the studio to just follow through on what I started yesterday. This composition is more controlled and looks pretty much like SOMETHING. So I went ahead and named it Overpass, since I feel like it is roads and fields and some sort of architecture.
When I showed it to Dave, the resident audience member and critic, he liked it, but said that he didn't like the paint.
The paint!

Well, I have to agree. Acrylic has its virtues and its drawbacks. It dries fast which is both good and bad. And it is transparent so it can look like watercolor, and is thin so it can be drawn upon with ink and pencils. But every stinkin' brushstroke is visible until the final layer is applied. So the surface is often uneven and doesn't have that velvety appearance of oils or pastels. And one can't get the same depth or glow that one can with transparent oil glazes. But in my impatience I want to have the daily fix of a new painting and can't see myself getting that with oils unless I relinquish the need to complete a piece daily.
That can be done.


I can just say I have started painting A and then go on to painting B the next day while A dries, which may lead to painting C since drying time depends on so many factors.


In the meantime, I do have something to say about all this. I am finding my way, experimentally, improvisationally, and that feels wonderful. I think I can approach a larger format the same way. In fact I can do it with acrylics, as an underpainting. I can dink around with the composition until I feel it is going somewhere, and then layer on the oils and feel that the substructure is the guide.

And I can paint oils over acrylics on paper too, which I never would have done in art school. The surface is coated with impermeable acrylic so there is no fear of rotting paper from the oils.

Again one of the features of maturity is the ability to disregard the rules once imposed upon the youthful student. Following them never really lived up to expectations anyway.


A note on the election. We live in a Blue state but our county is Red as red can be. There was only one Democrat running in all the seven open county seats. I was forced to choose whether to vote for someone I didn't want, or not vote. I voted. Grrr. We should move to someplace where we belong.