Black cotton lines, cut with the fancy deckle blade of the rotary cutter. The black was commerical cotton so to keep it fused in place, I quilted directly on the lines. That is the only quilting in the piece.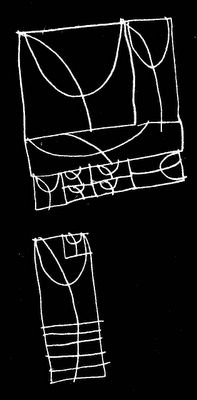 The original drawing was all about the lines.
John Nieto was one of the artists I saw in Santa Fe. I was majorly inspired. Now I see why.
His use of lines maintains the essence of the drawing. Notice how he is using color in his contour lines. You can be that will appear in my work, as you saw in yesterday's attempt.
Just for the record: What is going on here is that I am trying to get over a 28 year painting block. I went into quilting because I was so unhappy with my painting and needed a break. I had just discovered quilts about 6 weeks before I graduated from art school and thought that as soon as school was over I would make a quilt.
Well. I guess it was destiny. I didn't paint again successfully all these years. But damn, I don't want to leave that my legacy. I wanna crack that nut. Not that I want to leave quilting.
Did you read that? Not that I want to leave quilting. I just want to fix that unsatisfied feeling and be able to enjoy painting and make something that thrills me the way it should.
You know I gave up knitting once. Gave away all my yarn. It was crappy yarn anyway...
And I gave up quilting in 1985. Gave away all my fabric (well, it was to my Mom, so it didn't go far). Then I found a new way to quilt and got it all back. Soon I sold that 'quilt' fabric and began to solely use hand dyes, so it was an important reconfiguration.
Now that I get it with quilting, and really I do, I am ready to give painting my energy for a minute. I only have a minute, because I leave on Tuesday for a downstate gig, and I need to pay attention to work.