Imagine my surprise when I opened up my newly arrived copy of Quilt Visions 2004, the catalog of the biennial exhibit of top notch art quilts, to find Charlotte Bird had made an Andy Goldsworthy quilt!!! Hers really looks like his rocks, no? Including the graduated colorations that are a hallmark of his work.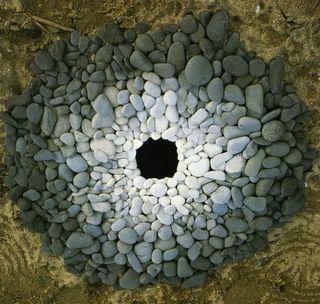 Surely you arty types out there could have told me that this quilt was created, entered, accepted and published way before I got my inspiration! Don't I feel like a complete moron now? Here I am thinking that I have made something so personal and wonderful, and it turns out to be just another attempt at this same idea...which wasn't mine in the first place. Aw geesh.
DARN. Back to the drawing board...