....OK. I sometimes write my blog on the toilet.
It saves time.
Happy now?
And I love being disgusting, as in the butter/fly blog.
And now for something completely different:
Art Quilting: I have half of Matchstick Moons #3 on my worktable but it can wait til I come back home on Wednesday afternoon.
I am back to thinking about painting. A new Joann's has opened and I had several half off coupons and still I managed to spend about $70 on 4 primed stretched canvases. Two are 36" square and two are 24x36".
The are the kind that have 2" deep stretchers, with the canvas wrapped to the back, ergo no need for framing.
I want to paint some paintings for my living room, and bed room and dining room and anyplace else I can stick them. Maybe even the studio!
The problem with painting in my past is 'what to paint'. I am not going to stress out over this. I will be painting ABSTRACTLY and it can be just about color or texture or lines or nothing or everything. yes yes yes.
On the other hand, I have hundreds of pictures from my trip to Mexico and started fooling around with them in Picasa2, to see what they might look like as paintings.
A picture from the jardin in San Miguel.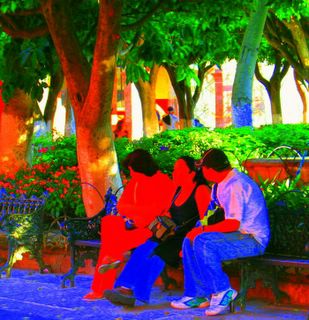 Doctored up in Picasa2. The color and the elimination of detail will help me find the essence of the scene and teach me how to see more abstractly. This could be my first homework assignment. I am teaching myself how to work differently in paint. This could also work similarly in fabric. Take away all the nagging realities and just leave the shape and fantasy color.
How to: use the settings that come with the program. Play around till you get something you like. Duh.
Examples of loose paintings that I found on the web. Just so you know where I am heading.