click
18x24" acrylic on watercolor paper
I can't seem to leave out enough and couldn't resist getting a few facial features in there. In my opinion this is too laboured.


I like the cropped version better and the colors are fine but comparing it to the loose quality of the
Skip Lawrence
painting below, you will see where I was aiming and how far afield I got.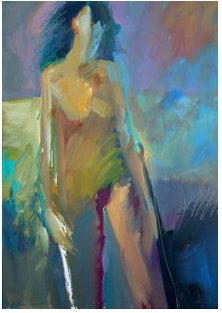 This painting I would hang in my living room but mine is too explicit and looks more 'naked' than his. arrgghh.
I am not happy like I was. However I am not giving up. Working larger made it easier to get those details in, so I may go back to large brush/small paper and force the issue. Stay tuned.