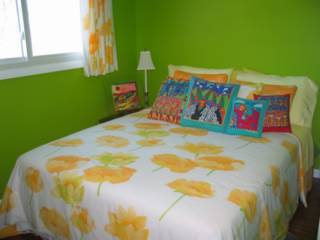 Accomodations at Chez Johnson
This year we are hosting the Christmas feast. My brother Cary and his lovely girlfriend Rose, Dave and I will pull out all the stops to make this a memorable day/evening/wee hours gala.
Cary and I are competitive to a fault, yet we work together like butter, or as I like to say, like we practiced for weeks in our garage. We will make something spectacular to eat and will have entertainment, if he keeps his end of the bargain and will end the evening with a ride through the
over-the-top Christmas lights decorated to death
neighborhood where Dave and I reside.
The only thing we are missing is a guest audience member.
We are looking for someone or a couple who isn't spending Christmas with fun people, yet is a fun person themselves. We are inviting perspective guests to apply for audience member participation which includes staying in my
CHARTREUSE
guest room, complete with your own bathroom and choice of cats. All expenses are paid once you get here, but you must get here and back on your own dime.
You think I am kidding, but I am not. What good is it to be a spectacular host without someone to show it all off to?
Offer yourself up to me with five good reasons why we should pick you and email your comments at the site email here.
Good Luck to all entrants and may the best contestant win!